Sid Vicious 'Sid Lives' 2xCD and 2xLP

This Sid Vicious timeline history (see below), from his beginnings to the Sex Pistols and beyond, is taken from the 'Sid Lives' CD's 24-page booklet and LP gatefold sleeve of the double-album.
It's the full recordings of four of Sid's last performances from Max's Kansas City, September 1978, with guitarist Steve Dior and the New York Dolls rhythm section, Arthur Kane and Jerry Nolan.

It includes Steve Dior's fascinating recollections of life with Sid, and the background to each song, only available in hardcopy in the 2xCD booklet and the vinyl 2xLP sleeve.

Listen to 'Sid Lives' - on Spotify, Apple & iTunes or Amazon.
Buy the 2xCD here. Buy the limited 2xLP here (while stocks last)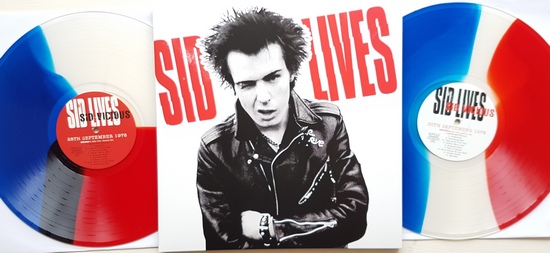 'Sad Vacation - the last days of Sid & Nancy' is a film by director Danny Garcia (The Clash, Johnny Thunders). It's an up close and personal account of their tumultuous and stormy relationship. Buy the DVD on ebay.

Sid Vicious, Nancy Spungen and The Sex Pistols –
A Series of Events
So, was Sid just an unfortunate victim of circumstance that propelled him into the limelight, where he had to live out the life the media circus expected of him? Or did he really embody the spirit of punk as well as being the poster-boy face of it? What direction would his life have aken had he not paired up with the similarly disturbed Nancy? Was it because of the drugs? Was it manager Malcolm McLaren's fault? But, perhaps it's all a little more complicated than that….
The Early Years
1957
May 13th: Sid Vicious is born - as Simon John Ritchie.
1958
February 27th: Nancy Spungen is born. The baby is jaundiced and immediately needs a blood transfusion.
June: Nancy is given her first sedatives, Phenobarbital, at age 3 months.
1960
The Ritchie's marriage has broken up. Mother Anne embarks on a nomadic bohemian lifestyle, which takes her and her son to Ibiza for two years, then to Soho where she works at Ronnie Scotts jazz club.
1962
At age 4 years, Nancy is sent to see her first psychiatrist,. Although she has tantrums and mood swings, she has an extremely high IQ.
1965
Simon Ritchie becomes Simon Beverley, after his mum remarries. But 6 months later his new father-figure dies, devastating both Simon and Anne. They stay in Tunbridge Wells for 6 years.
1971
In a school for disturbed children, Nancy discovers drugs at age 13.
The Beverleys move back to London from Tunbridge Wells
1973
Simon reverts to being John. Goes to Hackney Technical College, and meets John Lydon (later known as Johnny Rotten) and Jon Wardle (later Jah Wobble).
Aged 16, he is injecting drugs along with his mother, Anne Beverley, openly in front of Wardle and Lydon.
Nancy, aged 15, is now a heroin addict, and also diagnosed as schizophrenic. She attempts to self-abort with a coat-hanger, and attempts a suicide.
1974
May 27th: Sid is charged with assaulting two police officers, after going drunkenly berserk.
Nancy is studying journalism and marketing at Colorado University. But she's expelled for stealing, and ends up in a mental hospital.
1975
In the gang he hangs out with, there's also Johns Lydon, Gray and Wardle. The 4 Johns! So Lydon rechristened Ritchie as Sid, after his pet hamster. Ritchie hates the name, but has to live with it.
"I hate the name Sid, it's really vile and poxy. I stayed in for two weeks because everyone kept calling me Sid, but they just wouldn't stop. Rotten started. He's 'orrible like that, he's always picking on me."
Nancy is living in New York, hanging around with bands at clubs, earning cash as a topless dancer, a dominatrix and turning tricks in the sex trade. She's becoming a hard-core groupie, modelling herself on Sable Starr. Many years later, Courtney Love takes Nancy Spungeon as her role model.
November 6th: The Sex Pistols play their first gig. Sid becomes one of the entourage following around this new but unknown underground group up against the world that his mate John Lydon, now called Johnny Rotten, sings in.
1976
Rotten has given Sid a new surname: Vicious, after his ironically named soft pet hamster.
"The Vicious thing was just a joke; he was a softy. It was only when people looked at him when he went out that he thought he had to live up to the name." - Anne Beverley, Sid's mum.
Sid invents the Pogo Dance – jumping up and down in the tiny crowd that comes to see his mate John Lydon in the Sex Pistols.
June 1976
NME music journalist Nick Kent, famous for championing and dissecting real rock'n'roll, attends a Sex Pistols gig. An old friend of Pistols manager Malcolm McLaren, he rehearsed with the band in their formative years; right now he's a junkie in a bad way. Sid, out of it on speed, perhaps with encouragement from either McLaren or group members, takes a rusty bike chain and whips Kent around the head. There's blood everywhere. The event is reported in the music papers, giving the Pistols a really dangerous reputation. Maybe there were personal undercurrents – Nick Kent has been going out with Chrissie Hynde who is part of the Pistols and Sex shop scene; Chrissie is also a good friend of Sid's. (Though Sid around this time boasts that he's the most sexless creature in the world.) Later, Sid & Nick will sort of make up.
July 1976
4th: Sid sees The Ramones at The Roundhouse. Previously he's been heavily into Iggy & The Stooges and David Bowie. Now he's learning bass by playing along to the Ramones first album. The following week at Dingwalls he gets to the aftershow party, and shares a fix of speed with Dee Dee, shocking him by loading his syringe with dirty toilet water.
23rd: Nancy reviews the Heartbreakers' first gig with Billy Rath in place of Richard Hell, at Max's Kansas City, for New York Rocker, issue 4. She's got a big thing about their drummer, Jerry Nolan. He's been friendly; she seems to be obsessed. Jerry says he turned down her sexual advances (no doubt fuelling her more) but got her to spend her money on him.
September 1976
19th: Being part of the tiny, embryonic punk scene, Sid's hanging out with lots of people who are now forming bands. You don't have to be able to play well, it's the attitude that counts. The day before Siouxsie & The Banshees are due to play the 100 Club Punk Festival; Marco Pirroni suggest Sid Vicious should join them on drums. It's a one-off performance that Siouxsie has blagged; they decide that as they haven't time to rehearse songs they'll just do a 20-minute experimental art piece; The Lord's Prayer with Siouxsie wailing over heavy rock clichéd guitar.
20th: Sid plays drums with Siouxsie, they perform, supporting the Sex Pistols, 'Twist & Shout' and 'Knocking On Heaven's Door' alongside 'The Lords Prayer' and 'Deutschland Deutschland Uber Alles'. The set is described by some as 'unbearable', but reminding Nils Stevenson of Yoko Ono's 'The Fly'. Sid & Siouxsie wear swastikas, which as intended upsets a few people, including the Clash's manager Bernie Rhodes.
21st: Sid is arrested on the second night of the festival; a glass has been thrown, it hit a pillar and shatters into shards. One goes into a girl's eye, tragically wounding her. Was it Sid?
22nd: The group Sid is loosely rehearsing with is given the name 'Flowers Of Romance' by Johnny Rotten. It includes variously Palmolive & Viv Albertine (later of The Slits), Steve Walsh, Jo Faull, Sarah Hall, Steve England and Keith Levine (Clash/Public Image). In amongst Ramones covers, Sid composes some originals, including the black-humoured 'Belsen Was A Gas', his only composition to ever be recorded. 'Piece Of Garbage' and 'Brains On Vacation' never get to be heard.
October 1976
9th: The Sex Pistols sign to EMI Records. They are the all-pervasive UK establishment label; as well as the Beatles and Queen they have lots of classical and opera music.
November 1976
19th: 'Anarchy In The UK', the Sex Pistols' debut single, is released on EMI. The Damned have beaten them by a month as the first UK punk single, with 'New Rose' on the new indie Stiff Records.
December 1976
1st: The Sex Pistols have their notorious TV interview with Bill Grundy. Together with Siouxsie and other members of the 'Bromley Contingent' they sit around waiting, and get lots of complimentary drinks. The leering and sarcastic interview lasts about two minutes; Grundy foolishly goads them into swearing.
2nd: Suddenly the front pages of all the UK national papers are covered with the Sex Pistols – they've sworn on prime-time TV, and the nation agrees: they're truly disgusting! Viewers have attacked their television sets, the papers report. Interviewer Bill Grundy is suspended from his job for encouraging them.
3rd: The 'Anarchy In The UK' tour with the Sex Pistols, Clash, Damned and Johnny Thunders' Heartbreakers starts today. Only it doesn't. Press outrage from the TV interview means all but 3 of the 19 dates get cancelled. The 'tour' becomes surreal.
7th: EMI have their Annual General Meeting, and the Chairman is forced to make a statement about 'this young pop group' the Sex Pistols. They've been accused of 'peddling filth' and are facing a shareholder's revolt.
25th: Every time a gig is cancelled, there's been yet more press coverage, covering comments from both the local authorities and the band. A representative of the Greater London Council says: "My view on punk rock is that it's nauseating, disgusting, degrading, ghastly, sleazy, prurient, voyeuristic and nauseating. I think most of these groups would be vastly improved by sudden death."
Leee Black Childers, the Heartbreakers manager, at a party stumbles upon Sid alone and listening to a sentimental Jim Reeves record. He's crying.
1977
January 1977
4th: At Heathrow airport, on their way to tour Holland, a Sex Pistol is reported to have "spat, vomited and swore". This is a repeat of a New York Dolls incident when Johnny Thunders threw up. Malcolm McLaren is modelling the Pistols on the Dolls; did he manufacture the story?
6th: EMI have tried to brush off criticism, but now the Chairman Sir John Read issues a statement to the press: they're dumped by EMI and the single is deleted.
28th: EMI have to pay up to get out off their contract. It's £50,000; ker-ching!
February 1977
13th: Sid Vicious gives an interview to LA DJ Rodney Bingenheimer, where he says he has 'auditioned' for the band. But what about Glen Matlock?
28th: Sid Vicious officially joins the Sex Pistols. Malcolm McLaren announces Glen Matlock's departure in a telegram sent to New Musical Express: "Sid Vicious their best friend and always a member of the group but unheard as yet was enlisted. His best credential was he gave Nick Kent what he deserved many months ago." After years of rehearsing and gigging, founder bassist and main songwriter Glen is fed up and leaves the band.
March 1977
10th: A&M Records sign the Sex Pistols, now with the spiky and photogenic Sid Vicious, at a photo-opportunity in front of Buckingham Palace. After the posed 'signing' they go to the A&M offices, trash them, and abuse the staff.
12th: The Speakeasy Club is a late-night drinking club frequented by old guard music bizzers. The Pistols invade it, and start arguing with Bob Harris, the presenter of Old Grey Whistle Test, a 70's rock show veering towards old-school country-rock is there. A barfight ensues, Harris's companion gets glassed, needing 14 stitches.
15th: Nancy arrives in London, clutching Jerry Nolan's guitar that she's got out of the NYC pawn-shop for him. Jerry takes the guitar – but doesn't let her in! After the Heartbreakers gig at The Speakeasy (recorded and later issued on Jungle), to the band's horror, Nils Stevenson lets her in to their flat. Johnny Thunders locks his door, Jerry Nolan gets into bed with Nils & Simone fully clothed, to escape from Nancy. They're completely paranoid of this woman. Everyone is shocked and wary of this junkie-groupie rock chick who habitually cuts her wrists.
Meanwhile, a letter to A&M arrives from Bob Harris's lawyers. His manager also manages Peter Frampton, one of A& M's top acts.
16th: A&M Records sack the Sex Pistols! Just one week this time. The payoff:- £75,000; ker-ching!
20th: Nancy is ejected by Johnny Thunders & Jerry Nolan from their flat. She moves in with dominatrix Linda Ashby, who earns a good living whipping celebrities and MPs. By now, Nancy has met the Sex Pistols, hit on Johnny Rotten who is nasty to her. But Sid is sorry for the girl who everyone's rude to. Has he ever had a girlfriend before?
28th: Sid appears live with the Pistols for the first time – a short notice secret gig at a Catholic church's Notre Dame Hall in London's Leicester Square.
April 1977
3rd: Another rare gig – the London Islington cinema, the Screen On The Green.
6th: Sid in a bad way is dragged out of Linda's flat. Malcolm quizzes him – is he shooting up? Nancy has introduced him to heroin. Sid is sent home to his mum.
12th: Sid's looking yellow, the doctor confirms hepatitis, contracted from dirty needles. He's moved again.
16th: Sid is now in St. Anne's Hospital, Tottenham with the hepatitis.
May 1977
1st: Nancy visits Sid in hospital regularly, as well as Sophie Richardson and the band.
12th: Virgin Records sign the Sex Pistols. Maybe they'll get along better with hippies than straight businessmen. It is a radical change of image for the previously hairy label. Ironically, many years later, owner Richard Branson sells Virgin Records – to EMI.
13th: At last Sid is out of hospital, it's been 4 weeks. His signature is still missing from the Virgin contract. And the band have recorded much of the album without him – Steve Jones has recorded the bass parts.
16th: Manager Malcolm McLaren has to debunk a suggestion made on TV that the Pistols have a connection to the right-wing National Front party. "The Sex Pistols are not into ANY political party. Anarchy is not fascism but self-rule and a belief in following one's own way of life without recourse to any form of dictatorship or nationalism. We hate this kind of army nonsense."
27th: The 'God Save The Queen' single is released, after various pressing and promotional hiccups.
28th: Johnny Rotten's mum is interviewed by her local paper. 'Mrs Rotten' says: "He's not going around murdering people. In fact, groups like the Sex Pistols help society by bringing kids in off the street."
31st: The BBC decide to ban 'God Save The Queen' from the radio as it's "in gross bad taste." Independent radio does the same.
June 1977
7th: Malcolm McLaren and Virgin have hired a boat to 'celebrate' the Queen's Jubilee on the River Thames. The boat is called 'The Queen Elizabeth', and the Pistols are on board to play to the invited guests. Six Police boats start to follow. The river boat is forced to pull over; the Metropolitan Police board, pull the amplification plug and evict everyone. Eleven are arrested.
11th: The Daily Mirror tabloid publishes Sid first interview. "I'm not a vicious person, really. I love my mum. She understands me and is glad I've found something in life I really enjoy." "I'll probably die by the time I reach 25. But I'll have lived the way I want to." Later he says: "I told him exactly the opposite of what he wanted to hear."
18th: The Sex Pistols hit Number 1 in the UK with 'God Save The Queen'. But mysteriously, some sales disappear from the official sales chart, and most charts list it as Number 2, in this Queen's Jubilee week.
23rd: 'God Save The Queen' has now sold 250,000 in the UK, giving it a prestigious 'Silver Disc' status, despite the blanket radio ban and many shops such as WH Smith and Woolworths refusing to stock it. Meanwhile, 'Pistol bashing' has become a sport in London – band members now have to be wary. Rotten, Cook and artist Jamie MacGregor all get attacked in the street.
July 1977
1st: The 'Pretty Vacant' single is released, with a cover of the Iggy & The Stooges 'No Fun' on the b-side. Lyrically it's not controversial, so might get airplay.
7th: Sid accompanies Nancy who is in court for possessing an offensive weapon – and she's over-stayed her visa.
13th: Sid misses the plane for a short tour of Scandinavia – he left his passport behind.
14th: On 'Top Of The Pops' with 'Pretty Vacant'.
21st: On 'Top Of The Pops' for a second week; the single has climbed to number 7.
August 1977
1st: Sid almost has a 'marriage of convenience' with Chrissie Hynde to enable her to stay in the UK. They go with his birth certificate to the registry office, but it's closed.
2nd: Sid is in court, charged with carrying a knife at the 100 Club Punk Festival last September. Two of The Clash (Jones & Simonen) appear as character witnesses; Sid gets a £125 fine.
19th: Sex Pistols gigs in England have to be clandestine to avoid being cancelled – they do a series of gigs as S.P.O.T.S (Sex Pistols On Tour Secretly) and other pseudonyms.
24th: An unfurnished flat is found for Sid in Maida Vale, at 3 Pindock Mews. It's a 7-year lease. Malcolm says "That's fine, he'll be dead by then…" True enough, concurs Glitterbest secretary Sophie Richardson in her diary.
October 1977
15th: The 'Holidays In The Sun' single is released, coupled with 'Satellite'. Meanwhile the Pistols are reported to have rehearsed a new song – it's Sid's 'Belsen Was A Gas' from his Flowers Of Romance days.
27th: The album 'Never Mind The Bollocks, Here's The Sex Pistols' is rush-released today. It's banned from sale at the chains Boots, WH Smith and Woolworths because it contains those first two singles they don't like.
November 1977
5th: A record shop owner is arrested for displaying a poster of 'Never Mind The Bollocks', under the 1889 Indecent Advertisements Act and a Vagrancy Act. Many shops stop selling it, or at least displaying it. More controversy for the press!
24th: In court, QC John Mortimer produces a professor of linguistics who examines the history of the word 'bollocks'. It's an Olde English word, used for a thousand years to describe a small sphere, but also to mean rubbish. But it's most commonly used as a term for testicles. Mortimer argues that this prosecution is not against an allegedly indecent word, but is waging war on the band. Case dismissed! 'Bollocks' is not indecent!
30th: The band are fed up with Sid being a problem, and blame Nancy. Sid turns up to a rare rehearsal and finds no one there. Sid gets very drunk, very depressed, and suicidal. Nancy stops him jumping out his hotel window; he then gets violent with her and blood is drawn, with much hysterics. The hotel calls the police who arrest the pair. There's no charges, but because of the couple's excessive behaviour the band want Sid out of the group – unless he gets rid of Nancy.
December 1977
5th: Off to tour Holland for 10 days.
9th: Sid and Nancy are apart. Management and band are trying to separate them, there's a confrontation with Nancy and they try and fly her one-way to New York. Sid's no longer best buddies with Johnny, and there's tension in the band.
25th: The Sex Pistols play a children's party in Huddersfield. Sid takes lead vocals for the first time – on a version of Johnny Thunders' 'Born To Lose', which later appears on 'Sid Sings'.
29th: The Pistols are refused entry visas to the USA – they've all got criminal records. 30th: Although the offences are drug possession, burglary, theft and assault, somehow they manage to get clearance to enter the USA.
1978
January 1978
5th: The Pistols make their US debut at Atlanta Great SE Music Hall. Immediately, Sid ducks his minder to find some heroin.
6th: Memphis, Taliesyn Ballroom. It's sold out, Sid gash's his arm deep with a knife to help keep in the headlines. He's got bad withdrawal symptoms, and needs some heroin. The tour antics start to get crazy, years later related in the book '12 Days On The Road'.
8th: San Antonia, Randy's Rodeo; two thousand capacity. Sid is off with groupies and drugs. Onstage he hits a fan with his bass; gets a bloodied nose.
9th: Baton Rouge, Kingfish Ballroom.
10th: Dallas, Longhorn Ballroom. It's a Country & Western venue; the C&W rednecks are out in force. Sid goes on stage with 'Gimme a fix' scrawled on his bare chest. Again he gets hit in the face and retaliates.
11th: Tulsa, Cain's Ballroom.
14th: San Francisco, Winterland; four thousand capacity. Before the gig they all get interviewed on radio stations. On KSAN Sid says: "We'll probably be dead in two years." 'Belsen Was A Gas' is performed live for the first time. And it's the last ever Sex Pistols gig.
16th: The Sex Pistols fall apart. Steve & Paul don't want to work with either Johnny OR Sid any more – Johnny's acting the big rock star; Sid's completely out of control. Malcolm is also complaining about those two. Sid's gone off with some new heroin pals, overdoses, goes unconscious and turns blue. Malcolm gets to him just in time.
17th: McLaren confirms to Johnny that Steve & Paul are going to Rio without him or Sid, to record with the escaped 'Great Train Robber' convict, Ronnie Biggs.
18th: Johnny announces to the New York Post that the band are over.
19th: Sid has an overdose on the plane to New York, and falls into a coma. He's rushed to hospital.
20th: Photographer Roberta Bayley calls Sid in hospital. He says he left the band, and that Rotten is 'completely finished'. And as usual, the death prophesy: 'I probably will die in six months, actually.'
21st: In London, Johnny speaks to an evening paper, confirming the split. "I was bored chronic of singing the same set for two years, and bored stiff with Sid's juvenile behaviour. Sid can go off and kill himself and nobody will care." Sid discharges himself from hospital, with advice that he get further treatment in London. He's got bronchitis and is very rough.
23rd: The Virgin statement about the split says that Johnny was kicked out of the band.
February 1978
3rd: Sid talks about self-destruction to NME: "When I get so annoyed over something, I need an enemy, somebody who's done something to me so that I can take it out on them and beat them to a pulp. And I always find I'm sitting in a room with a load of friends and I can't do anything to them, so I just go upstairs and smash a glass and cut myself. Then I feel better."
27th: Sid Vicious appears live with Johnny Thunders in a one-off group, 'The Living Dead' at the Speakeasy Club. Johnny insists that Nancy goes topless to introduce the band. Band members are Peter Perrett of the Only Ones, Patti Palladin of Snatch, and two of Eddie & The Hot Rods. In soundcheck they find Sid, out of his head, can't find the notes on his bass, so they switch his amp off. A couple of months later Johnny plays there again, but with Steve Jones and Paul Cook.
April 1978
4th: Sid is in Paris filming for the Sex Pistols' movie, performing the memorable 'My Way' highlight. Sid's vocal is recorded line by line, as he's so ill.
8th: Sid & Nancy have talked to Record Mirror for a 3-page cover story. Sid tells Rosalind Russell: "I'll die before I'm very old… I don't know why. I just have this feeling. There have been plenty of other times that I've nearly died." They also reveal they were both on a two grams a day heroin habit (cost: £80) until a recent methadone programme. Sid might form a band with Johnny Thunders. Much of the interview is focussed on Sid's bitterness towards Johnny Rotten.
May 1978
12th: Sid & Nancy in court on drugs charges from November.
June 1978
2nd: The Sex Pistols announce that they'll continue without Johnny Rotten, that they're auditioning for a new singer (why didn't they just use Sid? Maybe Steve & Paul wouldn't have it) and have a new single out with Ronnie Biggs on vocals. The b-side is Sid singing 'My Way'; over the years it's that track that's endured far more than McLaren's controversy-seeking Biggs a-side.
30th: 'My Way' is released as the b-side of 'No-one Is Innocent'. Meanwhile it's reported that there's been no contact between Sid and the other two for some while. The NME review notes: "Just a thought; the last person to record 'My Way' died soon after." Everyone is noticing Sid's death-wish life-style.
August 1978
2nd: Back in court for drugs charges.
5th: Sid is seen on the 'Revolver' TV show singing 'My Way'.
12th: Now it's the turn to see 'No One Is Innocent' on Revolver, but the film clip is banned.
15th: Sid performs his first gig fronting a band; it's also his farewell to London gig – he and Nancy are moving to New York. Glen Matlock, the former Pistols bassist who Sid replaced, has put together the band – with Rich Kids' Steve New, The Damned's Rat Scabies and Nancy on backing vocals (but her mike is turned off!). They're given the name Vicious White Kids, after the various bands they're from. Soon afterwards, 19-year old John Shepcock is at their flat sharing in the drugs. He overdoses, in the morning they find he is dead.
26th: Sid & Nancy fly to New York, after Sid has finished filming videos for Eddie Cochran's 'Something Else' and 'C'mon Everybody'. They move in to the Chelsea Hotel, Room 100. The Pindock Mews lease is taken on by Tony James, of Generation X.
September 1978
7th: Sid performs a gig under the banner 'Music Industry Casualties' at Max's Kansas City (the famous New York City rock'n'roll club) – there's a couple of the Dead Boys playing too; Sid has enlisted The Idols: bassist Arthur Kane & drummer Jerry Nolan from the New York Dolls, and guitarist Steve Dior, later of the London Cowboys. The Clash's Mick Jones guests on guitar.
18th: Sid & Nancy do a TV interview for cable TV, alongside Stiv Bators and xxxxxx xxxx. Nancy is all for feminism. They're going to record a single with The Idols.
28th: Max's Kansas City – the first of three more headline dates at with The Idols, now without Mick Jones, playing two sets each night.
29th: Max's Kansas City.
30th: Max's Kansas City.
October 1978
10th: Out browsing shops with friends, Nancy buys Sid a small knife. Knives have long held a fascination for Sid & Nancy, they've been frequently photographed playing with them.
12th: Nancy Spungen is dead – and Sid Vicious is arrested for the murder of his girlfriend. She's bled to death from one small cut in her abdomen. They – and most everyone they associate with – have been out of it on drugs, so the story of exactly what happened is very confused and contradictory.
13th: In court, bail is set at $50,000
14th: Malcolm McLaren arrives in New York and hires a law firm to defend Sid. He's trying to arrange bail. Sid is in Rikers Island Prison, where the hard-core criminals are sent, and has been moved to the hospital wing to detoxify from heroin.
15th: Sid's mother, Anne Beverley arrives in New York, after raising $10,000 by selling her story to the New York Post. McLaren's King's Road shop is already selling Sid t-shirts with the slogan 'I'm Alive, She's Dead, I'm Yours'. Nancy is buried in Philadelphia.
16th: Virgin Records send the $50,000 bail money for Sid to McLaren.
17th: Sid get out of Riker's Prison on bail
22nd: A despondent and desperate Sid tries to kill himself by taking all his methadone supply and slashing a wrist. Anne Beverley calls Malcolm who rushes over; Sid pathetically pleads to be finished off, it's 'part of a suicide pact'. According to Nick Kent, Sid then confessed to Joe Stevens on tape to poking at Nancy with a knife during a fight, after which they quickly made up. In their state neither realised the small wound was causing blood loss; Sid went out and when he returned she was dead.
December 1978
7th: Sid's out with a new girlfriend, Michelle Robinson, and gets into a fight in an empty Hurrahs club with Patti Smith's brother, Todd. Sid bottles Todd in the face, cutting him badly. He's dragged out by Peter Gravelle, but arrested the next morning. Sid is thrown back in jail at Rikers Prison; it's a clear violation of his parole. This time it's for seven weeks.
1979
January 1979
28th: NME quote Sid from prison, full of bravado: "Johnny Rotten will see who'll sell the most records when this trial is over and it won't be him. I'm the only one of the Sex Pistols left. I was always more famous than any of them. They just didn't have any bottle."
February 1979
1st: Sid is clean from heroin – he's been in compulsory detox in prison for seven weeks. The lawyers get him released from prison. His mother has bought some heroin for him. Sid takes some heroin, and demands some more. He collapses but insists he's ok. Later he finds and takes the rest of the heroin. It's his mother who finds Sid dead.
7th: Sid is cremated in New York, not buried with Nancy. His mum later manages to scatter the ashes over Nancy's grave.
23rd – 'Something Else' single released.
June 1979
22nd – 'C'mon Everybody' single released.
July 1979
27th: The cover of the Virgin 'Some Product' Sex Pistols album includes a 'Vicious Burger' and a 'Sid Action Doll' in a doll-sized coffin.
December 1979
6th: – Sid Sings album released.
Listen to 'Sid Lives' on Spotify, Apple & iTunes or Amazon.
Timeline compiled by Alan Hauser. References include:
www.sex-pistols.net
'Punk Diary 1970-1979' by George Gimark.
'Vacant – A Diary of the Punk Years 1976-79' by Nils & Ray Stevenson.
'I Was A Teenage Sex Pistol' by Glen Matlock with Pete Silverton.
'Vicious – The Art Of Dying Young' by Mark Paytress.
'The Sex Pistols' by Fred & Judy Vemorel
'The Dark Stuff' by Nick Kent.
Some of the dates and events researched are contradictory; there are likely to be some errors and inconsistencies in this timeline.
***If you are interested in Sid Vicious, you might also like this album from Sid's band THE IDOLS, aka LONDON COWBOYS. Includes bonus early Idols tracks, along with the London Cowboys 'best of' plus a CD of previously unreleased tracks.***