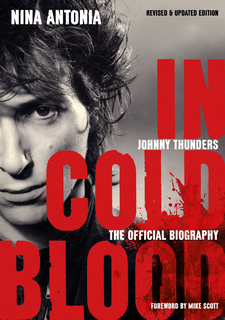 Johnny Thunders: In Cold Blood. The Official Biography by Nina Antonia: Revised & Updated Edition
A brand-new edition of a classic of rock'n'roll literature—the official biography of legendary New York Dolls and Heartbreakers guitarist Johnny Thunders. Revised, updated, and republished to coincide with the 50th anniversary of the Dolls' landmark debut album, in the week of what would have been Johnny's 71st birthday.
SIGNED copies by the author of both English and Japanese editions are on pre-order here

"A cautionary tale about creating a myth and living it out on behalf of others. All the glory and sadness of Johnny Thunders' short life is in this book. God bless him." BOBBY GILLESPIE
"In Cold Blood. The title says it all. Johnny Thunders inspired us in many ways—not all good, as any band member with junkie business at hand can attest—but his carefully attended elegance of dress, the way he commanded the stage, his sensitive songwriting, and most of all his reckless guitar playing (in defiance of his gentle personality) lives on in the heart of every guitar hero and rock fan." CHRISSIE HYNDE
"Nina knew Johnny and has observed his life with fandom, understanding, compassion, and detachment. She is more than qualified to capture its dynamics in her well-chosen words and a series of illuminating interviews." MIKE SCOTT, from his foreword to this book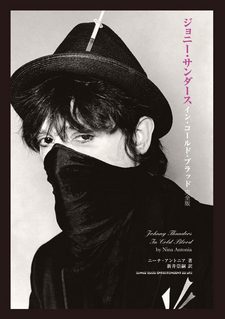 Johnny Thunders: In Cold Blood is the definitive portrait of the condemned man of rock'n'roll, from the baptism of fire and tragedy that was The New York Dolls, through the junkie punk years of The Heartbreakers, to his sudden and mysterious death in 1991. It is an unflinching account of a unique guitarist whose drug problems often overshadowed his considerable style and talent, but whose unquestionable influence on glam, punk, and more still resonates today.
Nina Antonia discovered Johnny Thunders and The New York Dolls as a teenager and spent her formative years as a dedicated fan before starting work on this book in her twenties. Then, when Johnny and his manager read her early drafts, they decided she should make it an authorised biography, granting her unique access to Johnny's life. As such, it begins by painting a historical portrait of Thunders and his early life and work before shifting into the present tense as Nina vividly describes her own experiences with Johnny and his associates.
First published in 1987, Johnny Thunders: In Cold Blood has been kept alive over the years by an audience that isn't always catered for. Johnny is the voice of the disenfranchised; he is every gifted son or daughter who went off the rails. Like Jesse James or James Dean, he couldn't come in from the badlands of rock'n'roll; he wouldn't kowtow to the establishment. This revised and updated edition adds a new closing chapter, bringing Thunders' legacy up to date, as well as new photographs and a foreword by Mike Scott of The Waterboys.
In conjunction with the book's publication, Jungle Records will release The L.A.M.F. Demo Sessions digitally together for the first time on July 14th. The album brings together four sets of studio demo sessions for The Heartbreakers' classic 1977 album – two from 1976 in New York, two from 1977 in London. More information here
Nina Antonia is an author and journalist who has contributed to Uncut, Mojo, Classic Rock, and Record Collector. Since Johnny Thunders: In Cold Blood was first published in 1987, she has written biographies of The New York Dolls and Peter Perrett of The Only Ones and edited the diaries of The Libertines' Pete Doherty. She has appeared on BBC Radio One and 6 Music, performed at spoken-word events, held a retrospective at the Barbican, and lectured on glam at the Tate Liverpool. She has also featured in various documentaries, including Danny Garcia's poignant film Looking For Johnny. Johnny himself called her 'the smartest chick I ever met'.
Review copies available now. Author available for interviews and to write features.
For UK media inquiries, contact Ben Pester: This email address is being protected from spambots. You need JavaScript enabled to view it.
For all other inquiries, contact Tom Seabrook at Jawbone: This email address is being protected from spambots. You need JavaScript enabled to view it.
Follow Nina on Twitter: https://twitter.com/NinaAntonia13
Johnny Thunders: In Cold Blood by Nina Antonia
Published July 11th, 2023, by Jawbone Press (www.jawbonepress.com)
272pp softcover with 16pp photo insert
ISBN 978-1-911036-11-1 / £16.95 UK / $24.95 US / $32.95 CAN
'Johnny Thunders In Cold Blood' was also published as a Japanese edition with over 150 photographs in 2022, by Shinko Books. A limited quantity are also available here signed by the author, along with the English edition.