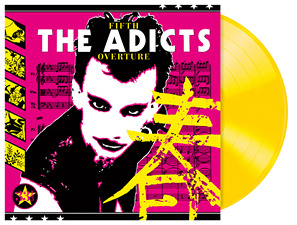 Record Store Day 2023: limited edition yellow vinyl of The Adicts' fourth studio album (copies now available here). The very first time on vinyl since the 1980's, now with a new inner bag and previously unseen colour photos.
The Adicts emerged from Ipswich on the east coast of England, dressed in white in an amalgam of The Joker and Clockwork Orange imagery. After their breakthrough debut 'Songs of Praise' on Dwed / Fall Out Records, their next two LPs had made a big impact in the UK, with singles entering the national charts on Sire Records – who insisted they change their name to ADX.
With infectious, poppy glam-punk tunes and theatrical shows, The Adicts have continued to grow their popularity for over 40 years and are regularly seen at festivals and tours of the USA, UK and Europe.
"...With their distinctive sound, sensational live shows and catchy, anthemic songs. The Adicts are one of the most recognizable punk bands of all time..."
This album was recorded in Germany, with the band enlarged to a five-piece. After the German release in 1986, it was reissued and repackaged in the UK the following year by Fall Out Records, but it has been unavailable since then.
Side One: Na Na Na Na, I Am Yours, Too Much Of A Good Thing, Sure Looks Pretty, Don't Let Go, Put Yourself In My Hands.
Side Two: She's A Rocker, Beauty Sleep, Change, Two Timing Me, Daggers, Going Home.
Buylink: https://jungrec.link/AdictsUK
FALLLP042 RSD23: April 22nd 2023
More info: https://theadicts.net/