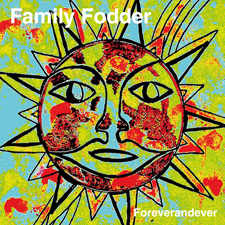 Family Fodder 'Foreverandever' CD
An album of rare recordings documenting a turbulent affair. Reassembled from unreleased and little heard tracks.
Featuring avant-vocalist Viv Corringham.
Family Fodder, best known for their string of idiosyncratic, playful post-punk singles such as Debbie Harry, Savoir Faire, Film Music and Playing Golf, have been active with a buzz of recent activity.
'Foreverandever' comprises recordings made a couple of decades ago for an album – which remained properly unreleased until now.
As the title suggests, these Alig Fodder songs stem from an obsessive liaison. Some tracks were appropriated by an alter-ego for an obscure Italian release, others donated to a cooperative project, but at last they've been collated and renovated for a CD and digital album release.
The CD has 3 bonus tracks from the 7" vinyl and digital EP Sex Works – a collection of sexual themed songs covering four decades. Dinosaur Sex is a condensed version of the 80's 9-minute classic; Nerd Sex is a brand new recording, and Fuck You Till I'm Dead is a tweaked version of the original. You Came leads the 7".
Recently, brand new Family Fodder albums 'Classical Music' and 'Variety' together with vocalist Darlini Singh Kaul (daughter of original Fodder singer Dominique Levillain) were issued on The State 51 Conspiracy label.
The early recordings 'Monkey Banana Kitchen', 'Sunday Girls' and 'Schizophrenia Party' were given respectful reissue treatments on CD and LP by German label Staubgold, as well as a vinyl album of new tracks, 'Love Songs'.
This year US band YACHT were the latest to cover Family Fodder, with a souped-up electro-pop version of Fuck You Till I'm Dead. A backfiring video stunt led to news items worldwide.
Alongside these releases Fodder godfather Alig Fodder has collaborated with Domino's Psapp and the artist David Shrigley, and toured Europe with a revived 80's Fodder line-up with new singer Bee Ororo.
Foreverandever: Walls of Ice, You Came (again), October, Mountains of your Moon, Le Poète, Your Heart My Home, Swimming Against the Tide, Disappointment, Mating Call, Viviana Dogama.
Sex Works EP (bonus tracks): Nerd Sex; Fuck You Til I'm Dead (exhumed), Dinosaur Sex (dusted).
FREUDCD119 5013145211922 November 25th 2016