Jungle Releases
Jimi Hendrix
'Driving South', 'Knock Yourself Out', 'Summer Of Love Sessions'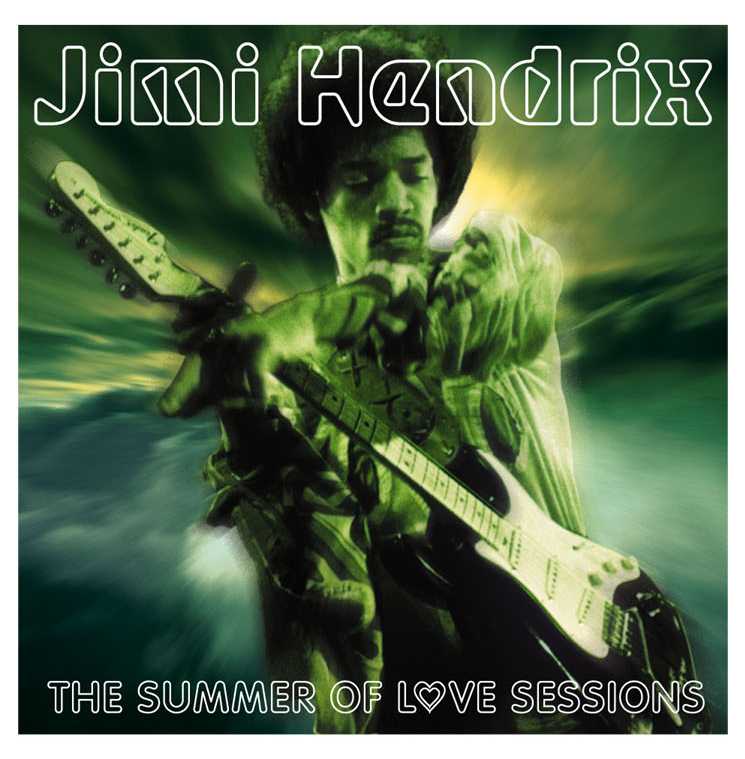 Jimi Hendrix 'Driving South'
Jimi Hendrix playing and singing the blues live, on Boxing Day 1965.

In May 1966, Jimi Hendrix was discovered playing the blues in New York clubs by the then girlfriend of Keith Richard, Linda Keith. Excitedly she brought down music-business friends Andrew Loog Oldham and Seymour Stein, who passed on signing the act. Then she brought along Chas Chandler, who was about to leave The Animals. The rest is history.

By 1965, Jimi had completed stints as guitar-for-hire with the Isley Brothers, Little Richard and others. His next was with Curtis Knight, and when Curtis played live, he gave over much of the set to his prodigious new guitarist. In between Curtis numbers and 60's pop covers, showman Jimi would come forward and perform his blues. Jimi and Curtis signed a recording contract with Ed Chalpin, who made these live recordings.

Recently re-mastered from the original ¼" tapes, recorded live on a snowy Boxing Day '65 in Georges Club 20, Hackensack, New Jersey, all the songs showcasing Jimi's guitar and vocals have now been put together on one album, Drivin' South. What can be heard is Jimi's unique fluid style applied to the blues he loved and built his music on – by now a fully accomplished blues musician, he had to be persuaded by Chandler to branch out into the rock and pop arena.

Pretty much the real, raw Hendrix, this is the nearest document to what so impressed Chandler and Linda Keith a few months later, including songs he continued to perform throughout his short career like Killing Floor, Bleeding Heart and I'm A Man, and his own composition Drivin' South. Together with the other tracks not heard performed by Jimi elsewhere, such as Travellin' To California and What'd I Say, this album gives an essential and intriguing insight into the early years of one of the last century's most significant artists.

With informed sleeve-notes by author and guitarist ex-Only Ones John Perry in a 12-page booklet, the mid-price CD package - as well as the gatefold sleeve 180gsm vinyl LP - is very attractive to both those just picking up a guitar for the first time and devoted connoisseurs of Jimi Hendrix's music.
FREUDCD065 / FREUD065

*This album has now been DELETED because the Hendrix Estate won a court case against Ed Chalpin that decreed that the master-tapes be destroyed.


Jimi Hendrix with Curtis Knight & the Squires 'Knock Yourself Out'

Archive r&b studio sessions from 1965.

By September 1965, Jimi had completed stints as guitar-for-hire with the Isley Brothers, Little Richard and others. His next was with Curtis Knight, who gave the broke guitarist a guitar as a welcome incentive to play in his band, The Squires. Jimi remained with Curtis's band for nine months, until just before Chas Chandler discovered him.

Contained on this album are the two studio sessions recorded in October and December 1965 (plus five bonus live tracks). They spawned two singles, included here as the first four tracks. The band's fare of mid-sixties r&b, in a style with Stax and 60's pop leanings, has Jimi's guitar very much to the fore.

Curtis valued Jimi greatly; when he played live, he gave over much of the set to his prodigious new guitarist. In between Curtis numbers and 60's pop covers, showman Jimi would come forward and perform the blues (as heard on previous Jungle release 'Drivin' South'). Jimi and Curtis signed a recording contract with Ed Chalpin, who made these recordings.

This is the first time these 1965 studio tracks have been put together - previous exploitative releases have mixed them up with later recordings including many tracks where Jimi played only bass, and packaged as a later Jimi recording, gaining nothing but a poor reputation. 'Knock Yourself Out' attempts to redress the balance, giving a fascinating and intriguing insight into the early Jimi Hendrix at work just months before his discovery.

With informed sleeve-notes by author and guitarist ex-Only Ones John Perry in a 12-page booklet, this mid-price CD package is very attractive to both fans of the Sixties and the many devoted connoisseurs of Jimi Hendrix's music.

Tracks: Knock Yourself Out; Hornet's Nest; How Would You Feel; Welcome Home; Don't Accuse Me; Simon Says; Gotta Have A New Dress; Strange Things; Fool For Your Baby; You Don't Want Me; +bonus live tracks: I Can't Help Myself; Satisfaction; I Got You (I Feel Good); Mr. Pitiful; Money.

FREUDCD066 / FREUD066 180gsm Release date: Oct. 30th

*This album has now been DELETED because the Hendrix Estate won a court case against Ed Chalpin that decreed that the live tracks master-tapes be destroyed.


Jimi Hendrix 'The Summer Of Love Sessions'

Studio sessions from July-August 1967 in NYC, shortly after the Monterey Festival had shot Jimi to fame. Jimi plays his distinctive style with the new invention, the wah wah effect, and 8-string bass, together with his old mentor Curtis Knight. Extensive and informative notes – the third CD in the series.

Jimi Hendrix became a superstar very quickly. From being almost destitute, then being whisked out of New York blues clubs by Chas Chandler in 1966, to the hit singles 'Hey Joe' and 'Purple Haze' and the 'Are You Experienced' album only took one short year. So after the Monterey Festival in 1967 when America also fell under his spell, he returned to New York City, and hung out with his old bandleader Curtis Knight (as documented in the now deleted 'Drivin' South' FREUD CD 65 and 'Knock Yourself Out' FREUD CD 66), who'd given a guitar to Jimi when he'd pawned his in hard times. And hanging out with Curtis usually meant going down to the studio and working on a few things…

In 1965, Jimi had signed a contract with Ed Chalpin to record with Curtis. It was still valid when he recorded with the Experience, and Chalpin issued legal writs against Hendrix and his new record company (ownership wrangles still go on – even now Chalpin is threatening to release the 'Are You Experienced' album). Jimi knew of the legal problems, but didn't think anything of going to record again with Chalpin in his studio. Only Jimi expressed surprise when the recordings were then released…

Experimenting with the new wah-wah pedal gadget, and an 8-string bass guitar, Jimi the new star jammed and worked on various songs over four nights in July and August 1967. The tracks, such as 'Love', 'Gloomy Monday' and 'Hush Now' and more show Jimi in his instantly recognisable Hendrix guitar style, and others such as 'Day Tripper' show that he also was a gifted bass-player.

A fascinating and intriguing article, these historic 1967 recordings have previously only been issued mixed up with the very different 1965 recordings with little or no background explanation. 'The Summer Of Love Sessions' comes with a 12-page booklet with notes by guitarist and author, ex-Only Ones John Perry, together with full details and photos taken during the actual recording sessions.

14 TRACKS: Love (instr.) 8:28; Hush Now (instr.) 5:12; Gloomy Monday 3:32; Happy Birthday 2:21; Ballad Of Jimi 2:26; Level (instr.) 2:50; Love Love 5:14; Get That Feeling 5:18; Future Trip 2:28; No Business 3:17; Odd Ball (instr.); 3:02; Flashing (instr.) 3:44; Day Tripper 3:17; U.F.O. 2:54

FREUDCD067 / FREUD067 Release date: December 3rd
Info: Alan Hauser

*This album has now been DELETED because of a court case that had nothing to do with the Hendrix Estate…