Conflict 'There Must Be Another Way'
Complete singles collection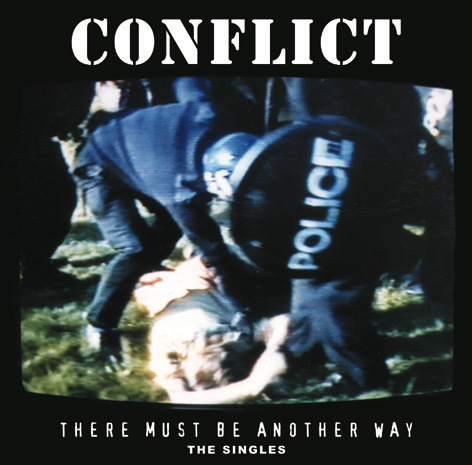 Conflict have been described as the world's foremost activist punk band.

Presented as an organisation rather than a band, it's their politics – together with 'RIOT!' headlines after gigs, and the subsequent banning in the UK – that are more known than their music. This is how they want it. They've never posed for a group photo, and resolutely taken the independent, self-sufficient counter-culture route where possible, mostly on their own Mortarhate label.

In the melee that they create, Conflict's music has often been overlooked. Fierce, tense, cajoling and militant, the reverberation alone is enough to provoke an emotional response. They can be looked on as an amalgam of what The Clash and Crass could have been – rallying protest, exhorting uprising, uniting crowds against common foes – all over a ferocious punk backing.

Their singles dominated the top of the indie charts in the 80's. After they were banned from the UK, they played at secret gigs and overseas, but became inactive in the mid nineties. Now, revered by the US straight-edge punk movement and protesters from Seattle to Prague, they have come out of hibernation. Ten years after their last album, they're back – headlining The Forum in an anti-globalisation festival; touring Europe; and issuing a brand new album.

The history of rock music has always been intertwined with that of rebellion and protest, from Marley to Public Enemy, the Stones to the Pistols, etc. CONFLICT are the sound of the real underground rebels, who are not in any mood for compromise!

FREUDCD068
MORTARHATE / JUNGLE